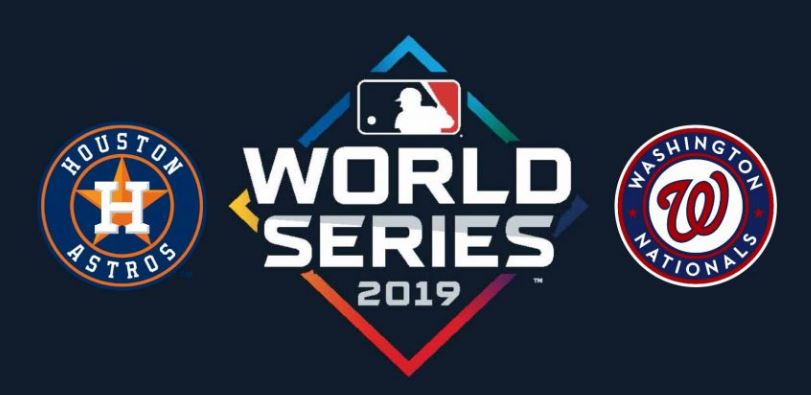 The Washington Nationals went into the morning of May 24th with a 0.1% chance of making the postseason. They defied the odds as the Nats earned a Wild Card berth, and they have found themselves as underdogs during each series in the postseason in the NLDS against the Dodgers, and the NLCS against the Cardinals. From 501 Crawford Street to 3570 S. Las Vegas Boulevard, the Nats are given little chance of winning this World Series against the Houston Astros. Is it a lack of respect? It is what it is. You are here to play the games so prove the doubters wrong. The Nationals are on an 18-3 run and are 8-2 in the postseason while the Astros are 7-4 in the postseason. Since May 24th and through today, the Nationals have won 82 games and the Astros have won 81. If you throw out the first 50 games of the season, the Nationals have been a slightly better team than the Astros, but that does not matter to those who project the winner and loser in this World Series. On top of that, the 3-time Cy Young winner Max Scherzer was asked questions as if he is some journeyman placeholder who has to pitch opposite of the Astros' Gerrit Cole in this Game 1.
"I've been in [this] situation [before], and faced really good pitchers here in the NL over the years [pitchers like] Kershaw, deGrom, those guys," Scherzer said. "You just know you've got to come out there, you're going to be throwing up zeros, and you've got to try to match the intensity from your opponent, and Cole has had a terrific year so it will be one heck of a challenge."
Yes, as we always say if you throw zeros you cannot be beat. This is the same Max Scherzer who just threw a six inning no-hitter against the St. Louis Cardinals and has a 0.60 ERA between his three appearances in the last two rounds of this postseason. Okay, Gerritt Cole has been slightly better with a 0.40 ERA — but what matters is today's results.
In his last start, the righty Cole gave up two singles and a walk in the first inning against the Yankees and worked out of the bases loaded situation. Obviously he can be beat, but beating him will be a challenge. Sometimes you just need BABIP to go your way. Ryan Zimmerman has a theory on the lucky bounces.
"In the [postseason], you have to get a couple lucky bounces," said  Zimmerman. "I've seen it the other way where the other team gets a couple lucky bounces go their way. It's a wacky game."
We have seen some wacky plays in this postseason that have changed the course of a game. When Didi Gregorius was batting with bases loaded against Cole in the ALCS, what would have happened if his groundball found a hole in that first inning? BABIP worked in that instance for Cole, but luck can change in an instance and a ball can hit a sprinkler head, a base, a pebble or go against a shift. We have seen it all. The Nats hope to be the recipient of some of those lucky bounces.
For manager Dave Martinez's lineup tonight, he will have the American League rules and playing with a designated hitter and that will allow him to insert Howie Kendrick as his DH and play the switch-hitter Asdrubal Cabrera at second base. Otherwise, this is the same lineup as we have seen most of the postseason along with Kurt Suzuki at catcher. Of note, the Astros did not put one lefty pitcher on their World Series roster.
"I preached all along of staying in the fight and going 1-0. I talked to all the players yesterday, and they're all upbeat and excited," Martinez said. "Big stage big moment, and like I said I'm proud of where we're at, and I'm proud to be associated with the Washington Nationals and the fact that we're one of two teams playing for the world championship."
Sometimes you also have to make your own luck, and both of these teams have done that to get to this point. There are also strategic decisions that have to be made. The Nationals published their World Series roster a few hours ago and they removed Austin Voth and Roenis Elias from their NLCS roster and added Joe Ross and Wander Suero. There were no changes made to the position players on the roster.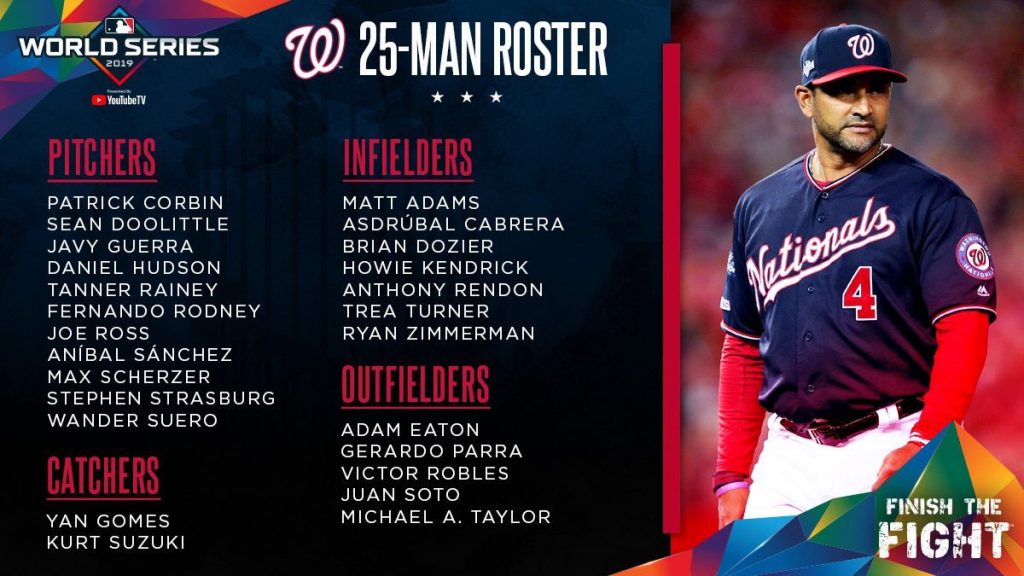 ---
Washington Nationals at Houston Astros
Stadium:   Minute Maid Park, Houston, TX
1st Pitch: 8:0 pm EDT
TV: FOX, MLB.TV
Nats Radio: 106.7 FM The Fan; SiriusXM® ( Streaming Internet 869)
Line-up subject to change (without notice):