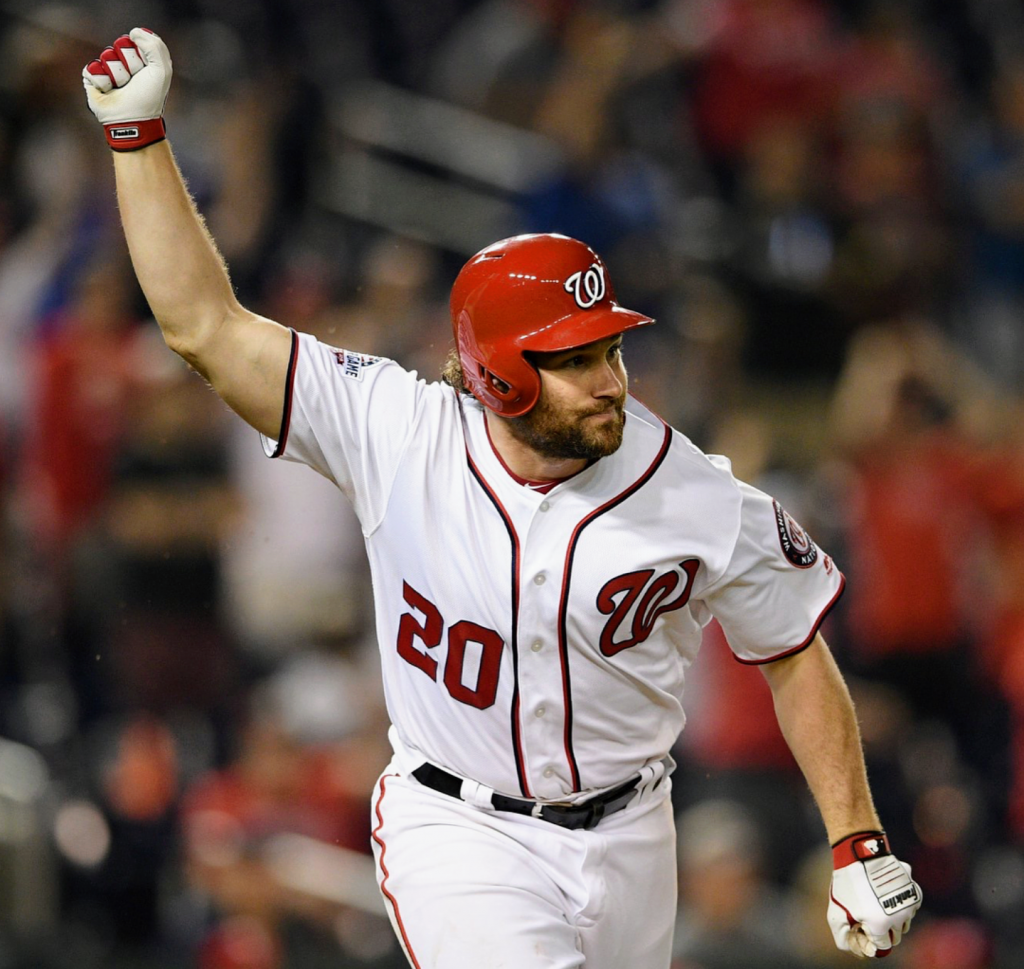 Jeremy Hellickson pitched a 5-inning shutout with a 2-run lead he received from an Anthony Rendon home run. Hellickson pitched well and could have gone deeper in the game. In the top of the 6th inning with bases loaded, manager Dave Martinez pulled Hellickson to add-on runs and sent in pinch-hitter Mark Reynolds who walked. The Nationals scored 3-runs in that 6th inning which proved enough for the Nationals to get this win and move to within 4 ½ games of the Atlanta Braves and 5½ games of the Phillies.
"Bases loaded and an opportunity to break the game open right there," manager Dave Martinez said about pulling Hellickson for the pinch-hitter. "That's what I decided to do.  I thought we could score some runs right there, and we did."
The middle of the line-up was not great except for Anthony Rendon's 2-run home run, but Rendon was 0-3 in RISP spots while he stranded 7-runners tonight. Daniel Murphy batting 7th was 4-for-4, and Juan Soto batting 2nd was 3-for-4 with a bases loaded walk, and Adam Eaton in the lead-off was 2-for-4. The rest of the Nats position players in the starting line-up all found a way to get on-base except for Bryce Harper who had a night he would like to forget as he was 0-5 with 4 strikeouts and a costly throwing error that led to the only run the Pirates scored.
"I saw the ball better today," Murphy said. "I think I saw the ball better today than I did yesterday. I think it's a testament to how hard [assistant hitting coach] Joe Dillon and [hitting coach] Kevin Long have been working with me. It's no secret that I haven't really been super productive so far in my at-bats, but I'm feeling better. Hopefully, I can grind them out myself and do something to help the ballclub each night."
Juan Soto had his best defensive play of the season ranging far into the left-centerfield gap by the 410 foot marker to snag a liner. Besides Soto's 3-hit night he extended the 5th inning with a "hustle" infield single to allow Rendon to smash his 2-run home run. Also, Soto walked with bases loaded instead of forcing a swing to be a hero.
Luckily the Nationals won this game but there were many little things missed like the lack of productive outs, Harper's throwing error, and a bad decision by Rendon who should have remembered that Murphy was in a shift as Rendon fielded a routine grounder and looked to 2nd and then threw to 1st base too late to stress reliever Matt Grace in the 6th inning.
The bullpen covered 4-innings and could have had a shutout if the defense made plays. Ryan Madson was great in an 8-pitch 8th inning and Kelvin Herrera loaded the bases in the 9th inning but got his 3-outs before any runs could score.