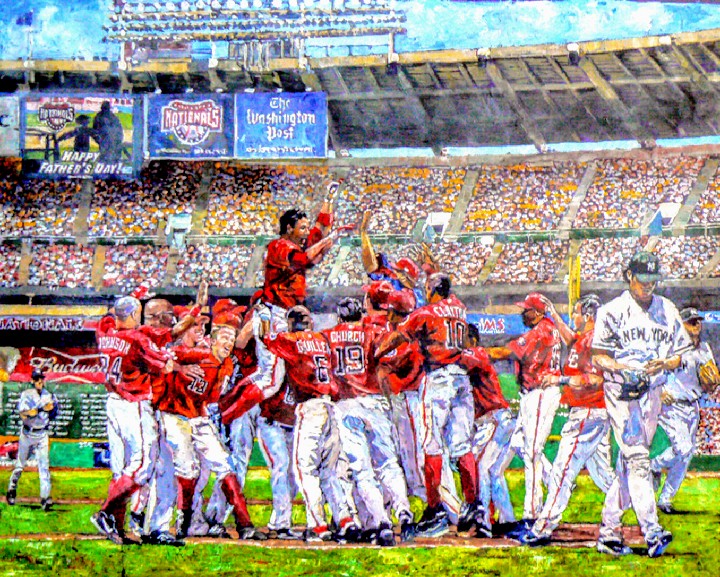 With Ryan Zimmerman on the disabled list, he will not be able to walk-off on the Yankees in this regular season  (unless the game(s) is rescheduled due to weather) — but there are plenty of prognosticators who have predicted these two teams as possible World Series teams so don't despair Zim — you could get your chance in October.
The mighty Yankees roll into town as an offensive juggernaut with some of the biggest bats in baseball like Giancarlo Stanton, Aaron Judge, and Gary Sanchez. The team has top prospect Gleyber Torres on their roster and appear to be adding Clint Frazier today. Hopefully the Nationals can keep DiDi Gregorius in his funk while also hoping that Gio Gonzalez can locate his pitches and fool enough batters to keep the Yankees down.
For the Yankees, they have righty Masahiro Tanaka pitching tonight. While he has a poor 4.66 ERA he has a 4-2 won/loss record because of all of the run support he receives. Tanaka has reverse splits as righties hit him at a .734 OPS. The time to hit Tanaka the best is after the 4th inning where 3rd time through the order he gets hit at .325/.413/.700/1.113.
You would guess that the game also could be in jeopardy if these storms swing over southeast Washington, and you can also bet they want to get this game in.
---
New York Yankees vs. Washington Nationals
Stadium: Nationals Park, Washington, D.C.
1st Pitch:  7:05 pm EDT
TV: MASN; MLB App out-of-market
Nats Radio: 106.7 The Fan and via the MLB app
Line-ups subject to change without notice:
Trea Turner SS
Bryce Harper RF
Matt Adams LF
Gio Gonzalez LHP